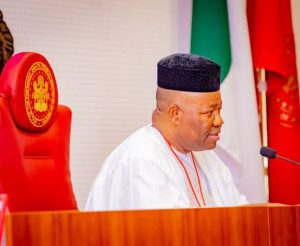 The appointment of the senator representing Benue South, Abba Moro as minority leader and lawmaker representing Enugu West, Osita Ngwu as minority whip on Tuesday caused an uproar at the upper legislative chamber.​
Naija News
gathered that the Peoples Democratic Party (PDP) lawmakers replaced Simon Mwadkwon, senator representing Plateau North; and Darlington Nwokocha, senator representing Abia Central; respectively.
Mwadkwon and Nwokocha were both sacked by the Court of Appeal.
While Mwadkwon, former minority leader, is a PDP member; Nwokocha of the Labour Party (LP) was the minority whip.
Moments after the Senate President, Godswill Akpabio finished reading the announcements said to be from the minority caucus, an altercation ensued on the floor of parliament.
The senator representing Anambra North, Tony Nwoye, said it was unfair for the senate president to choose leaders for them.
Nwoye yelled at the presiding officer,
"Are we your slaves? Why will the Senate president be picking leaders for us?

"You have done your worst. You have pushed us to the wall. Meaning what? It is unfair. It is not about me, it is about the institution of the state."
After some senators pacified Nwoye, Akpabio explained that the two minority leaders had shown the signatories of the senators who agreed with the decision.
He said,
"Minority put your house in order first.

"The senate president can only work with what is before me. You have Senator Abaribe and Aliero, their names are not here."
Akpabio added that he sympathizes with minority parties in the Senate.
The post
Just In: 'Are We Your Slaves?' — LP Senator Attacks Akpabio Over Minority Leadership Tussle
appeared first on
Naija News
.