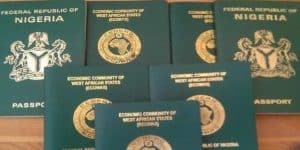 The passport production crisis in the United States of America has been successfully addressed by the Federal Government, leading to the resumption of passport services at all three missions.​
According to a public notice displayed at the Embassy of Nigeria in Washington DC, individuals previously scheduled for biometrics as part of their passport application process are now required to visit the mission on Monday.
The statement reads,
"This is to inform all passport applicants scheduled for biometric capture from Monday, November 13, to Thursday, 16 have been rescheduled. It has been rescheduled to hold from Monday 20 to Wednesday, 22nd, 2023.

"The affected applicants can come to the embassy on any of the days. The change of schedule is due to the internet outrage experienced at the embassy, and we regret any inconveniences this might have caused."
Independent reported that a source within the embassy in New York confirmed on Sunday that the issue was successfully resolved over the weekend.
"
The system is back over the weekend. The experts worked tirelessly to resolve it, and we are back. We fixed it yesterday (Saturday) and tested it. The system is back, and all the centres are fine, both New York and Atlanta. The server in DC is connected to Atlanta and New York so whatever happens to our server affects other missions.
"
The anonymous source revealed that the issue was related to the internet and not a server malfunction. It was clarified that as the server was linked to the embassy's internet, any disruption to the internet affected the other centres as well.
The source further disclosed that collaboration between experts in Nigeria and local ICT experts at the embassy led to the successful resolution of the problem.
In the United States, there are three missions representing Nigeria: the Consulates-General of Nigeria in New York and Atlanta and the Embassy of Nigeria in Washington DC. Notably, Washington DC serves as the sole passport production centre in the U.S., with the consulates handling biometrics at their respective locations and forwarding the data to Washington DC for passport production.
Earlier, the Organisation for the Advancement of Nigerians and its 20 partner organizations in New York had appealed to the Federal Government to provide passport production machines for the missions in Atlanta and New York.
"
The New York consulate has jurisdiction over the highest number of states and accepts the largest number of applicants from across the United States. It boggles the mind to understand why two passport printing machines are located in Washington with none in New York and in Atlanta,
" the associations noted in a statement.
The New York jurisdiction encompasses a total of 20 states, including Connecticut, Delaware, Illinois, Indiana, Iowa, Maine, Massachusetts, Michigan, New Hampshire, New Jersey, New York, Nebraska, Ohio, and North Dakota. Additionally, it includes South Dakota, Rhode Island, Wisconsin, Minnesota, Vermont, and Pennsylvania.
The post
FG Resolves Passport Production Crisis In United State
appeared first on
Naija News
.